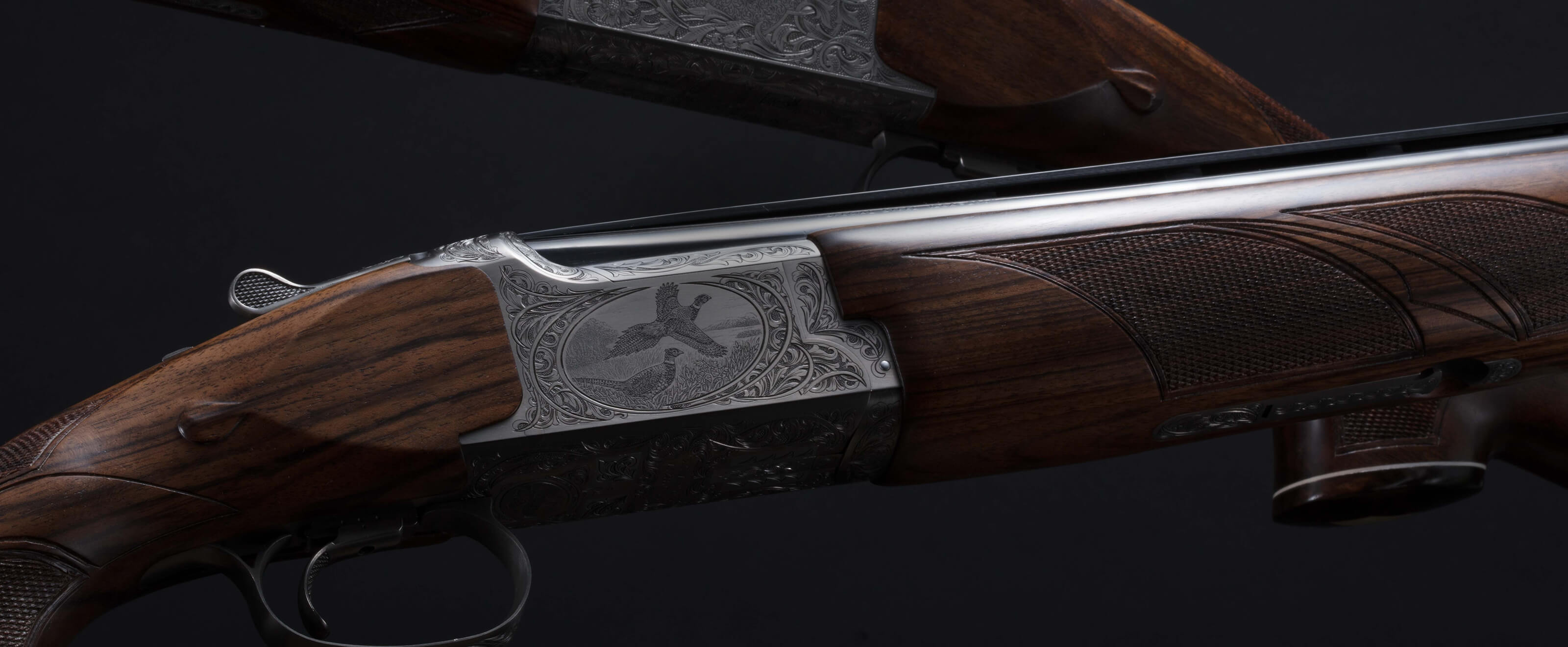 BRANDS
ブランド紹介

Own brand developed mainly in Japan, Europe and Oceania.
Over / Under shotguns, which combine trend and universal appeal, continue to be selected
by many fans as a masterpiece with a sense of maturity and dignity, beyond the commitment of materials and technology.
"B.C." of B.C.MIROKU is derived from "Bukichi" of the founding member (first president) Bukichi Miroku
and "Chiyoki" of Ido Chiyoki (second president).
PRODUCT LIST OF
B.C.MIROKU

MS 2000
Shotgun featuring a sharp trigger mechanism developed for domestic market, a uniform pattern with a long forcing cone, and a delicate laser engraving.

MK60
Among the "MK series" developed mainly in Europe, this model has a high grade of sculpture and woodstock.
A hunting Over/Under shotgun that is lightweight and easy to handle.

A brand established in the United States in 1883 by John M. Browning, a legendary firearm designer.
Miroku has produced many shotguns and rifles for more than 50 years since 1966 sales and technology tie-up.
Its tradition and technology are highly regarded from around the world, and its main product,
Over/Under shotgun, boasts the top market share in the United States.
PRODUCT LIST OF
BROWNING

CITORI
Brorwning's best-selling Over/Under shotgun, with a total sales of over 1 million.
We develop various lineups to hunting, sports shooting, each use.

A-BOLT SHOTGUN
Deployed 3 models of Hunter / Stalker / Camo for domestic market.
A single barrel shotgun adopted half-rifling barrel for all models.

CYNERGY
A shotgun that reduces height by adopting "Monolock Hinge" and achieves good handling.
In addition to the Over/Under barrels. it also supports single barrel specifications.

X-BOLT
Bolt action rifle that represents Browning.
Meeting the needs of the market with various specifications such as wooden stock, carbon fiber stock, fluted barrel, and Cerakote finish.

SEMI-AUTO 22
22 caliber exclusive semi-automatic rifle designed by legendary firearm designer John M. Browning.
A take-down rifle that allows the slim body to be divided into two without tools.

A brand established in the United States in 1886 by Oliver Winchester.
The masterpiece used in the late 18th century Miroku's technology has returned to the present age.
PRODUCT LIST OF
WINCHESTER

MODEL 1873
World famous lever action rifle as "The gun that won the West".

MODEL 94
A legendary lever action rifle that has been loved in the world for over a century since 1894.