Assume cardiac region of Miroku, 1/100 mm margins of error not tolerated
Yamamoto has engaged in manuracturing Miroku firearms since he joined Miroku in 2004. First he was assigned to the machining section, and then transferred to the finishing division, where he was in charge of "Kabu-fitting", the process of fitting the open-close mechanism of O/U shotgun. He developed his skill with surprising speed and preciseness and now he is the best worker of "zero-gap fit", fitting metal and metal with no gap between them. He is one of the expert workmen.
Durability is one of the most important requisite for firearms, which receive the impact of gunfire explosion at every shot. Even 1/100 mm of margins of error is not tolerated of frame and barrel, which is cardiac region of Miroku firearms. Only the expert workman can do this job.
"The zero-gap fitting is Miroku's pride, which enables the world's highest level of durability", I was told by superiors when I started doing this job, he says.
Turned from aesthetician, now an acknowledged professional

Yamamoto used to be an aesthetician. "I am unfitted for an aesthetician." He joined Miroku, which one of his friends worked for.
"No other companies make firearms. I want to acquire a skill not easy to get. I went to the interview and signed. I came to work the next day."
A machine-related job was a first experience to him. He learned eveything from how to use the tools to the names from scratch. But with his innate dexterity, he had a sence of manufacturing. Especially, his polishing work with files was remarkable. "This is my vocation." He was surprised by the beauty of his own work.
" I was absorbed in my work. I was happy when I could do the job more quickly, more beautifully than before, even if none noticed it. It was a pure pleasure."
Days went by and his skill started attacting other workers' attention. Now he has obtained the skill only the expert workman has.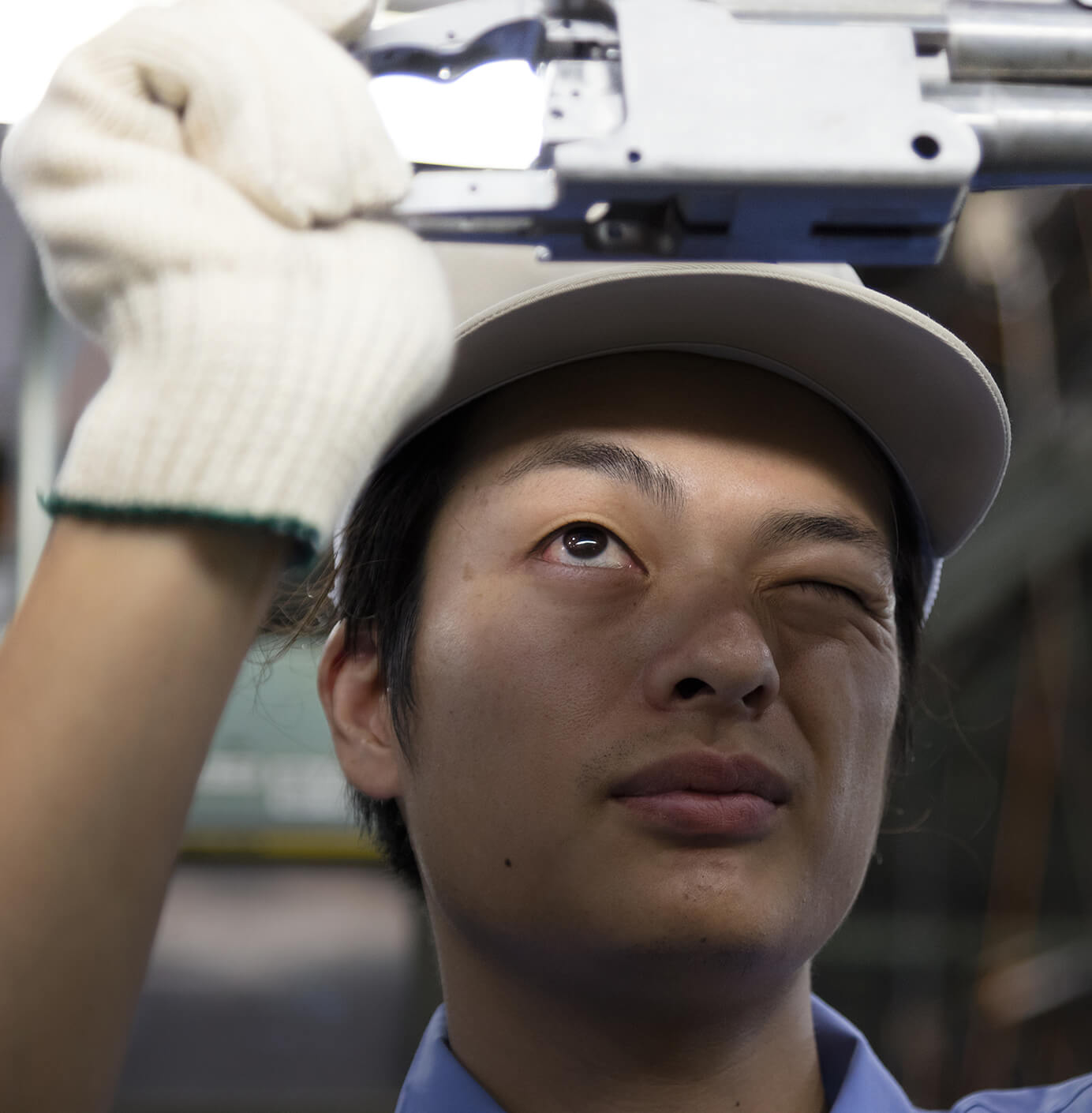 Hand down Miroku's world highest craftsmanship to future generations
Counted on by juniors and trusted by seniors, Yamamoto is now making effort for training of personnel. Making the fullest possible use of his profound knowledge of Miroku firearms and abundant experience, he takes initiative in training of young workers.
"Everytime an experienced worker retires, I feel training of personnel is my role. I want to hand down Miroku's world highest craftsmanship such as zero-gap fit, which I learned from senior workers, to the future generations."
Most of Miroku's production consists of hand working. All technical personnel of Miroku are craftsmen. Their pride in their job and their uncompromised work has built up the worldwide reputation of Miroku firearms.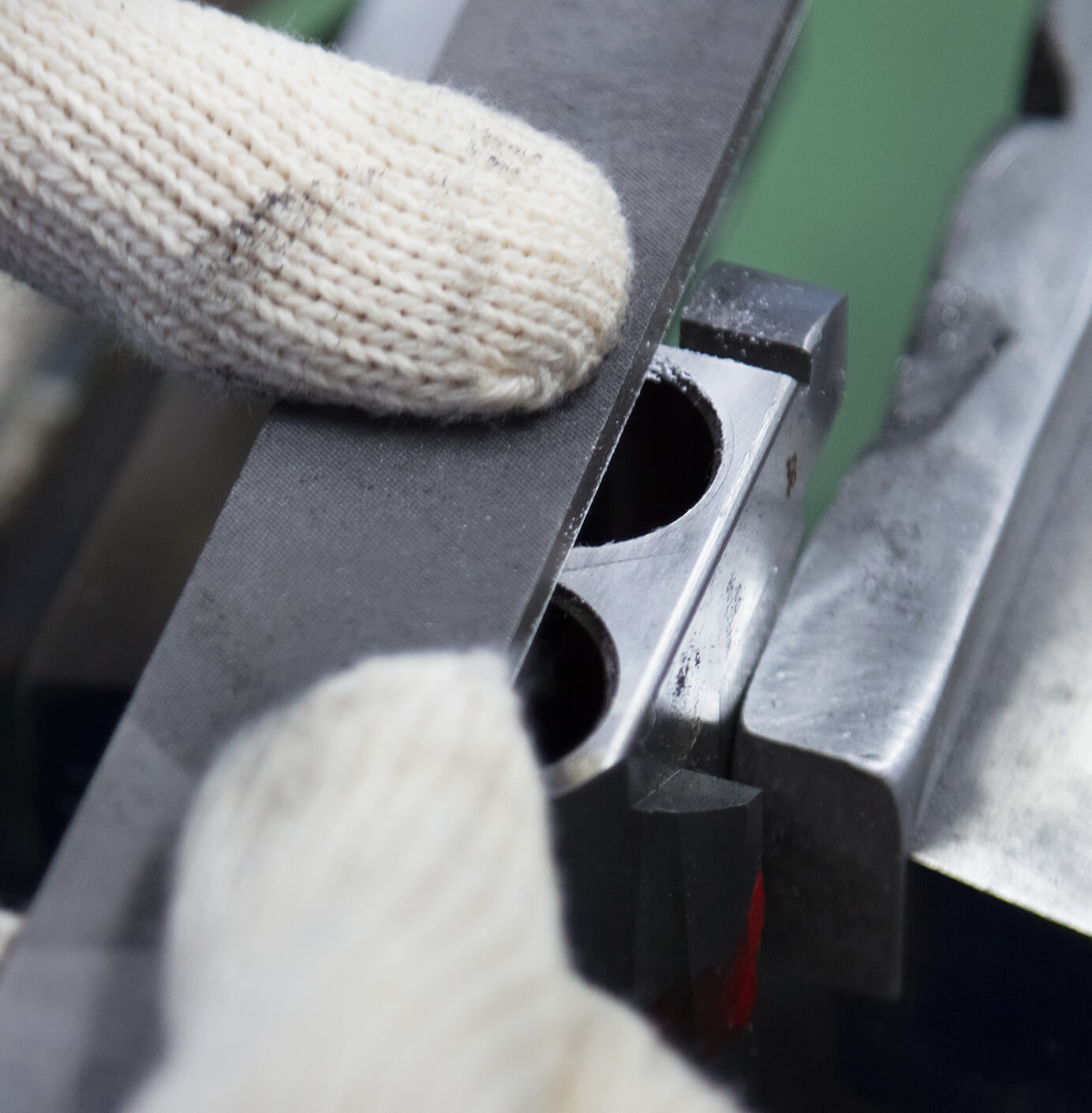 The chemistry of tradition and technology create new manufacturing
"To keep up a tradition and hand down to next generation is my challenge", says Yamamoto, but he keeps his all-out attack mode at the same time.
Industrial products depend on the quality of machines and tools used, as well as experience and skill of individual workers. Japan's industry has a lot of room to grow. The combination of tradition and latest equipment will enable even higher quality. I want to create new manufactuing with my co-workers, which is possible only with Miroku's technology and only by Miroku.
The words of craftman, who has a crutial role in cardiac region of Miroku, are strong and future-oriented.