An expert of grinding work that forms smooth finishing surface prior to bluing
This process requires precise manual works since he covers the portion where the surfaces can not be machined. Grinding in this process means to smooth metal surface prior to bluing/coating. As a subtle touch makes an obvious difference in the finishing, it's an important process to keep up the quality of firearms.
Yamasaki, who is in charge of grinding the receivers and the barrels etc. prior to bluing says; "Imperfect grinding directly links to the poor quality of firearms. According to the surface condition of each part, it is necessary to process it minutely and flexibly by hand." He also emphasizes the importance of manual work of this step "When I process the edges or round portions generated during the previous filing/rasping operations, I am always being careful not to make it too sharp, in order to provide better feeling to a palm."
"Techniques/skills can't be explained by the theory" --- was driven into my head repeatedly.
In his high school days, he was enrolled in the general course and not especially interested in workmanship or craftsmanship of manufacturing industry. One day, one of his teachers recommended Miroku to him, because he was a sprinter and Miroku was famous for the activities of its track & field team. Then, Yamasaki got interested in Miroku, as he wished to continue track and field after graduating from school. In addition, it was good for him that his home was close from Miroku.
Once he joined Miroku, he was sorely perplexed since he was not familiar with the tools to handle and each task in the production line was new to him. Thus he started his career with Miroku and first assigned to the section of roll-engravings that carved a pattern on both sides of the receiver, like a relief printing.
After moving to the current section of grinding, his seniors repeatedly inculcated him, "It's not logic, anyway." If all the steps can be processed orderly and systematically, this process could be automated by machine, but actually it's not. Then we should process such various kinds of surface conditions that are not for machining, accordingly and flexibly. By continuing to strive and make diligent efforts, you can accumulate your empirical values. The experiences you learned from the past solution make it possible to apply in similar surface conditions and process various irregulars properly. The skill is an accumulation of your experiences and solutions. "That was a discipline they instilled into me" he said with a laugh.
Actually I have been working here for a long time, so I just can do it. It was not such a big deal." He answered curtly, but it is not easy at all to accumulate know-hows to such an extent over many years.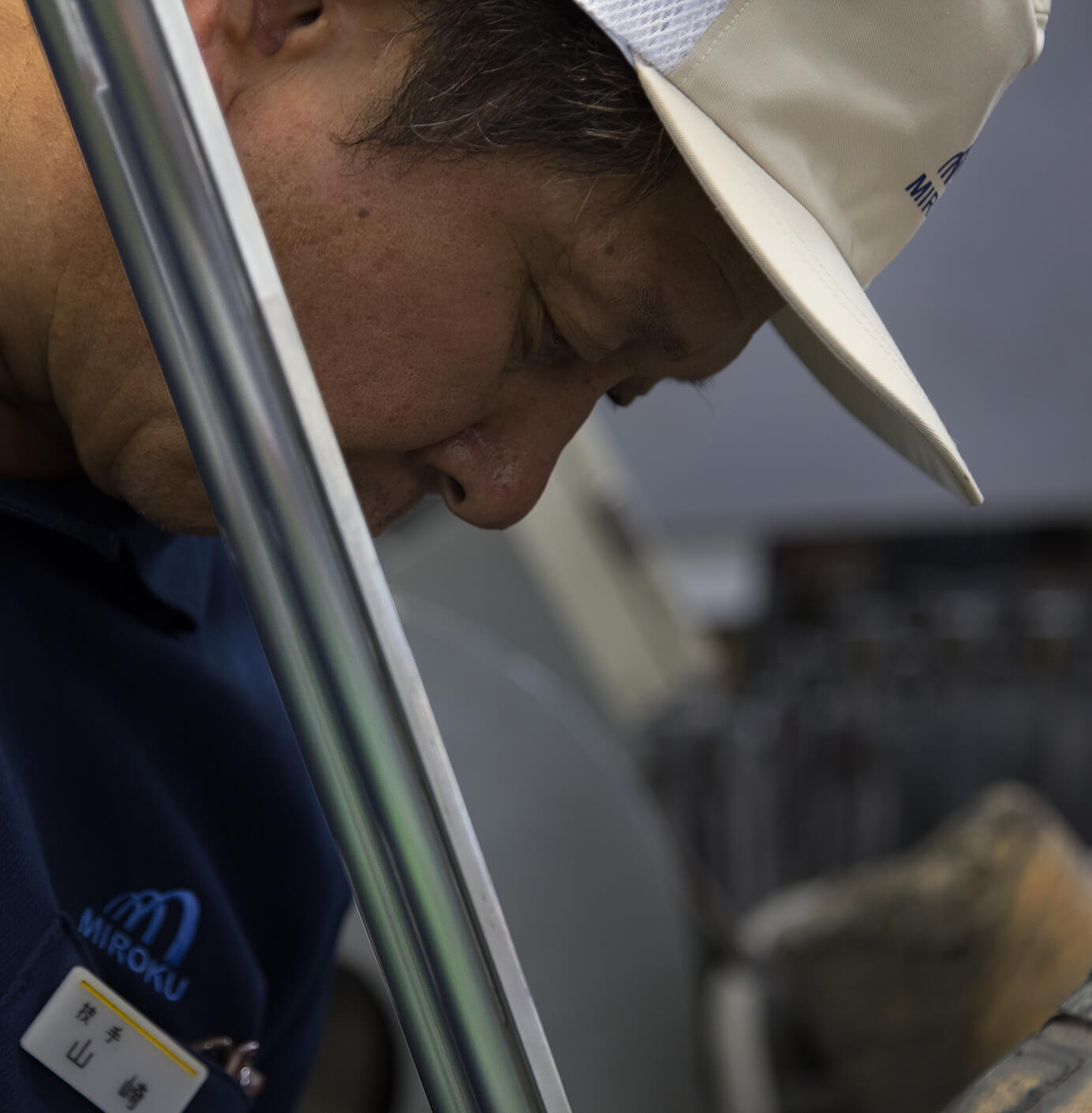 Yamazaki is trying to arrange new workers to relocate periodically, so that they can experience various tasks in the production line, without feeling monotony or distress.
As it was fun for me to experience various tasks, I had never thought that it was tough. Also, my seniors always encouraged me by saying "Don't be afraid of making failures, let's go ahead and just do it" and "Trying new tasks will surely lead to your growth." I'm sure those warm lessons formed what I am today, and will pass down this "Just-do-it" spirit to my juniors.
In a series of the manufacturing operations, manual dexterity and skillful techniques tend to be featured, but the basic communication ability is essential for their upskilling as well. To achieve the specific purpose, exchanging the necessary information, understanding what they need and asking frankly what you don't understand --- such a basic conversation is a must.
Therefore, he asserts "First of all, I would recommend talking with the people around you. Let's talk with the bosses, the subordinates and co-workers more frequently. Through those dialogues, you will be able to understand what they are thinking, then you can develop a stable and mature relationship to enhance each another."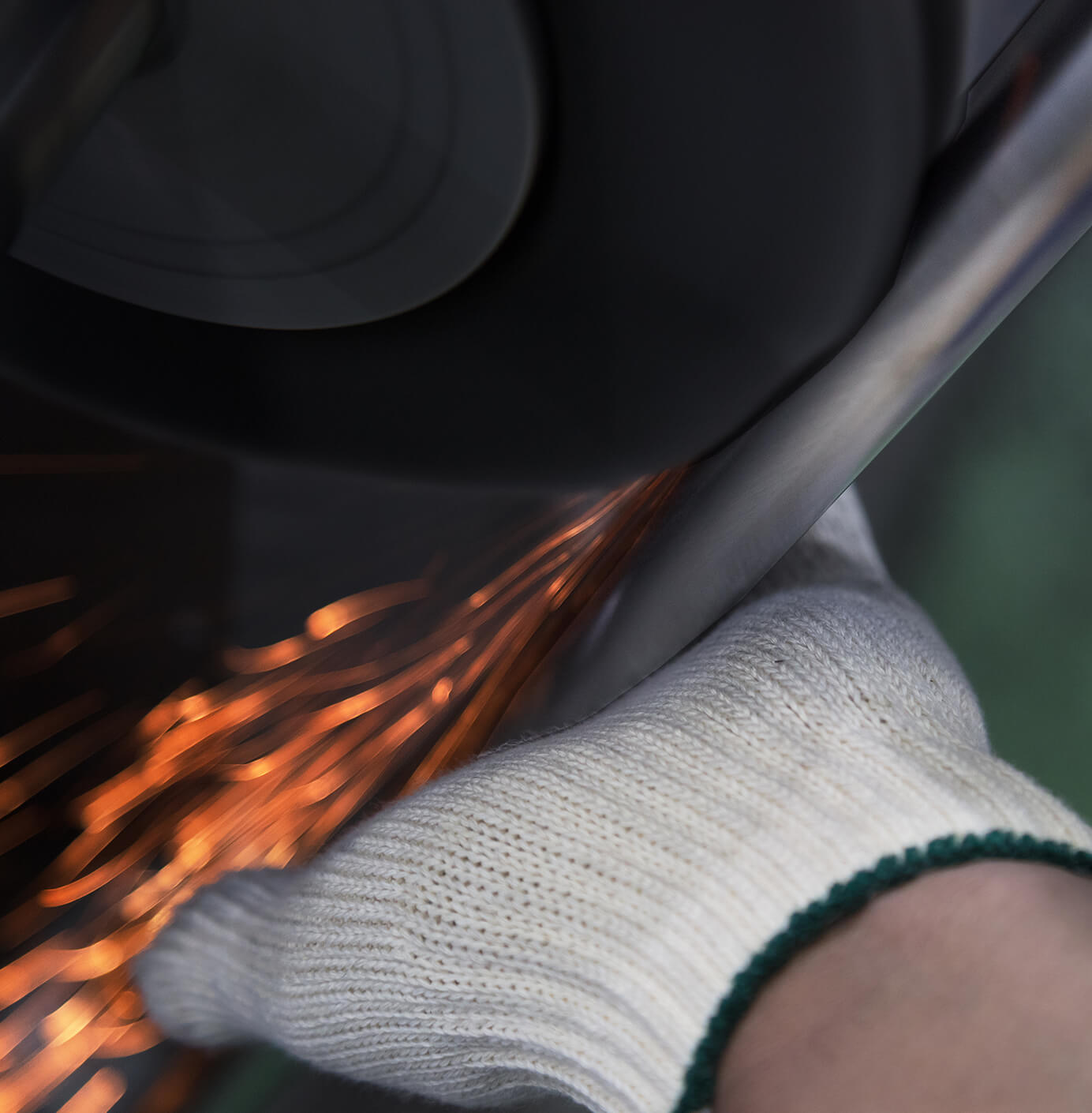 A few years left until my retirement. I will pay forward the Miroku tradition to the next generation
Working here for many years, he also had hard times. About 20 years ago, many seniors were forced to leave Miroku due to the deterioration in finance. So, he is keeping in mind that all of us belonging to Miroku now have to fulfill our own responsibilities here, while thanking those seniors who made a great contribution to Miroku.
"There are only a few more years before my retirement. In order to express my gratitude to Miroku that I spent half of my life, and deeply involved in my life, I will work on training the successors/juniors. I hope I can contribute to the development of the company by passing down all of my skills/techniques, knowledge, and know-hows I have acquired so far to the successors/juniors one by one."
The Miroku tradition boosted his life.Now that the tradition will be connecting the new generation.