This is a perfect job for me like a craftman type.
Many people have a rugged image for a gun, but a high-graded gun which has a engraving and a goldwork on its receiver is very elegant, and its design with delicacy and dynamism looks like the fine arts. At Miroku, technical experts in charge of engraving create such beautiful guns. Those craftmans spend many yars in leading their own products to a higher level.
Ms. Yorioka says "I originally like to move my fingers like doing handcrafts, but I do not like speaking with others so much.. Everyone says " You are a craftman type". She applied for the job because her mother working at Miroku recommended her to do so by saying "This is a delicate hand work , and you will like it". Soon after entering the company, she felt that this job was really suitable for me. Her basical work is to engrave the lines by watching the design.
Mainly, she engraves the traditional pattern like arabesque by delicate touch, and apply the engraving on the metal portion. In addition, she put gold inlay on some models. When she entered the company, she had no experience of engraving. At first, she earnestly engraved straight lines. After one month for practice,she started engraving waves and circles. It took her six months to touch manufactured goods after continuing basic practice feverishly.
Change a "lump of iron" to a "high-grade gun" by my own hands
"I think that I took more time than other people. Actually, some people were able to use a file correctly on the day when they started practicing. I cannot find any word to thank everyone ar my workplace because I was able to practice and practice everyday so that I could engrave products.
Her performance, however, which has beenimproving slowly but steadly, is full of silent power, and each strong line engraved by her is loved by many fans. Even so, a product is not a work of art. We cannot spend as much time as possible for engraving. Being unique is not always a must. We should not forget delivery and cost. Ms. Yorioka, who is trusted as "craftsman", not as "artist", is changing a "lump of iron" to a "exclusive gun" under given conditions before we know it.
" I do not think of design, but I just do what I am supposed to do. But I am concerning myself on making the best product under given conditions by keeping in mind that we should deliver the high quality goods to our customers. Finishing all the guns one by one very carefully is quite natural, and I believe this is the most important point. "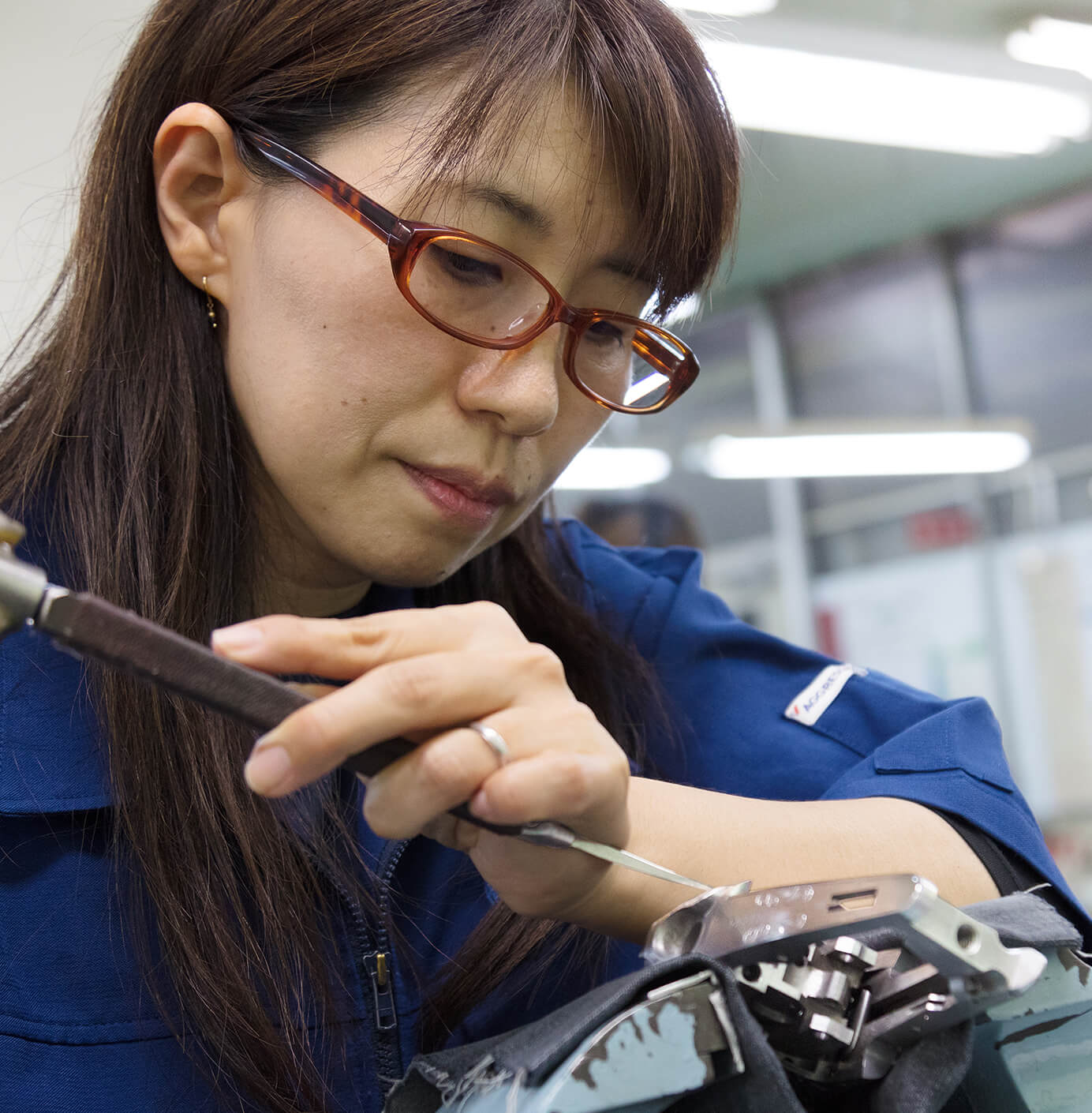 We can learn characteristic skills.
There are many veteran craftmen who are called as "artisan" at my workplace. Ms. Yorioka, a mid level employee, has been taking the skills of her seniors and handing it down to the next generations.
"There are not many guns with gold inlay, so I have few opportunities to deal it. At first, thanks to the help of my seniors, I could manage to get their skills. I cannot possible forget the sense of accomplishment at that time. I think that there is no attractiveness to learn such skills in other companies. Therefore, I would like to learn them as hard as I can in order to hand them down to my juniors. "
We should not be satisfied with something by saying "This is the best", but we should aim at the improvement the skills.
Engraving is ,so to speak, only a decoration of practical products. If you look at the guns made by Miroku, however, you cannot possibly call them as "only decoration". One evidence of it is that Browning has been asking us to increase the number of workers who can do the engraving by hand. At present, they have been hiring experienced workers positively so that these workers will do practical operations at the early stage. The road to be a craftsman is still far away.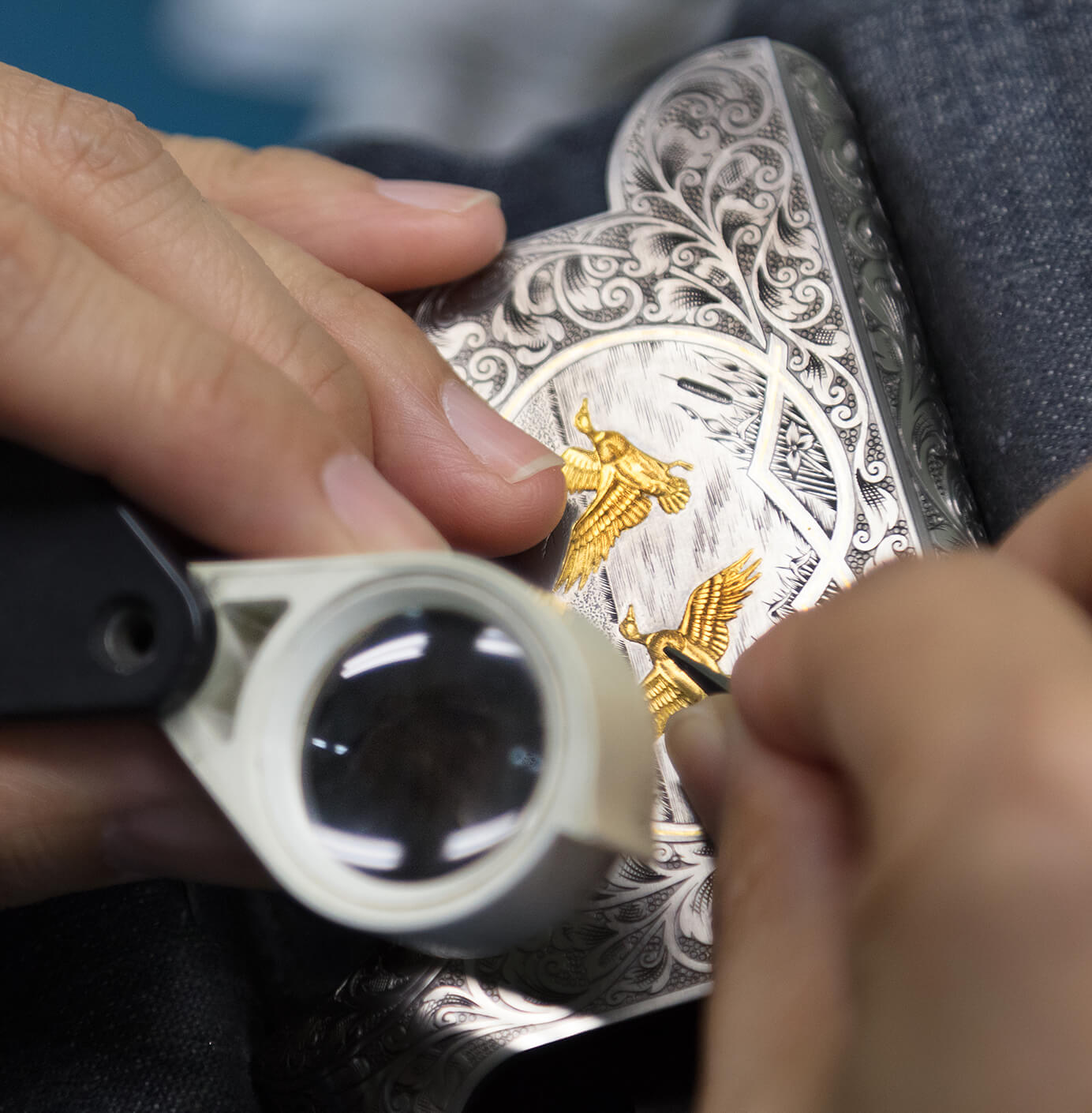 "There are thousands of lines on one product, and I cannot possibly assert that I can engrave 100% of such lines. But, I feel that it will end then if I am satisfied with the current situation and think that this is the best, so always feeling a little unsatisfactory may be good. I might be greedy about my job. New products are introduced in the market rapidly, so I need to have the skills so that I will not be late. I believe that there is no end of study and practice. Therefore, this job is very interesing and I am proud of being able to do it."
Ms. Yorioka's wordings are full of pride that monodzukuri is her lifetime job.